Am I the only one who starts planning our Christian homeschool curriculum for next school year in January? Couldn't be! If you are in full swing and planning mode for your homeschool curriculum, you are in good company! I strongly encourage homeschool families to start thinking about next year around the middle of "this" year. What's working? What are you loving? Things you want to add, or drop, next year? Why wait to plan until Summer? We all know how that goes…the lists and plans seem so doable in June, a little stressed, but motivated in July, and completely frantic and panicked in August! Summer is just not long enough to do it all. So, let's be reasonable, and start now, shall we?
I have the basic roadmap and plan for my span of kids for next year. We try to use solid Christian homeschool curriculum. I will go through them by grade, starting with my Kindergartener for simplification.
Kindergarten
We lean very heavily on the principles of Charlotte Mason, no secret there, and don't start my kids in any formal lessons or schoolwork until the age of 6. I should say, at least six. I do have one daughter that was simply not ready for formal lessons until closer to 7, and not reading until 9! Charlottes first principle is that children are born persons, which means they are their own unique individual with their own unique timeline. I try to respect that, within reason of course, and go slow in those early years. What's the rush?
Without further ado, let's take a look at what's planned for my little Teacup Kindergartener next year 🙂
Memory Work
We are a part of a Classical Homeschool Co-op who happens to use Claritas Homeschool Curriculum for the memory work portion for the younger grades. The memory work covers a ton of information. Subjects covered include: Scripture, hymns, history, latin, grammar, science, math, geography, Timeline.
Christian Studies
Claritas does the "ABCs" of scripture memory work. Each week the memory verse starts with the next letter of the alphabet. Additionally, we do Bible time each night as a family where we all work on our memory verses together. She also has a very solid weekly bible study/curriculum at our church.
Hymns – I have really enjoyed the hymns the children have learned this year through Claritas. They learn about a stanza per week and all sing it together during our opening assembly on community day.
She will also be following along with big sister doing Memoria Press Christian Studies next year. I am so excited to start my younger kids on this now. It is a 3 year cycle through the entire Old Testament and includes maps, timelines, and discussion questions. This first year we will be studying Genesis through the death of Moses at the end of Deuteronomy.
History
The Claritas history memory work follows the "Story of the World" history book. There are 4 volumes which coincide with the 4 year cycle Claritas follows. I like some of the volumes better than others, but it is a decent curriculum to follow. It reads like a narrative and I would consider it a living history resource. I will be pulling in other living books throughout the year to bring it more to life for her and a little more Charlotte Mason-ish. Specifically, more biographies. She will be following along with her big sister this year.
Latin
The latin memory work, at her age, is primarily exposure. I am planning to start her in Memoria Press's Prima Latin once she is reading fairly well on her own. Roughly 3rd grade. I love Memoria Press's Latin programs.
Grammer
Claritas grammar will be covering multiple parts of speech this year in cycle 1. At her age, this is all primarily for exposure. I also follow Mason's wisdom in teaching grammar a tad later than often suggested. The point being that we first want to connect to the child's heart and imagination. Good living stories, histories, biographies, scripture, poetry, and plenty of outdoor time spent in nature, all set the child up to have an overflow of ideas to draw from once it's time to start writing and grammar and writing go hand in hand. Typically, Mason suggests putting formal grammar studies off until around age 9.

She is currently working slowly through The Good and the Beautiful Level K Primer, which she has enjoyed. Once again, it's pretty and simple and fun. I have really come to love The Good and the Beautiful's Pre-K and some of their K curriculum. Their Handwriting books are also visually appealing, and we have used them several years.
Reading
Teacup will start level one of the All About Reading series. We are working to get her recall of the letters and their sounds to be automatic from now until August. She's a quick learner and already has the basic idea of letter sounds, so I'm confident she will be ready to get started.
Science
Claritas does a 4 year Science cycle, this year we are studying/memorizing physics. Meh. I think kids this age should be in the dirt outside learning about their world…but I've been told there is such a person who enjoys learning about physics, so there's that. Next year, cycle 1, is biology. Hands. In. Dirt. Yes.
At home, Science for the Kindergartener is done primarily out of doors, in nature, teaching the child to observe closely and carefully. Those observations are then transferred into a nature journal. As ability allows items are labeled with proper names and descriptions. At this point, I am writing in names and she dictates descriptions to me. Mason also encourages children to recognize at least 6 different local bird species by sight as well as by song. I love that.
Math
Their math is on a 2 year cycle and much is the same year to year. I appreciate that they teach skip counting and many of the basic math facts. Lots of exposure, which means once we hit it in her math curriculum it won't be the first time she is hearing the information.
As far as what we will be using for her actual math curriculum, we are currently working veeeery slowly through The Good and the Beautiful's K math program. It's very simple and pretty and she enjoys doing 2 or 3 lessons per week in it. I never push doing lessons, we only pull it out when she asks, and we stop when she is tired, frustrated, or bored. I don't use The Good and the Beautiful past the Kindergarten level because I prefer a spiral and more concrete approach to math. However, I do love it for a first easy intro and exposure to number and simple math concepts. It's also very beautifully illustrated and done in the form of a story, which is easier for young children to engage with.
Handwriting
We have done several different curriculums over the years for handwriting. This year she is working through Handwriting Without Tears. Handwriting is pretty fluid, and we just work on it until the book is complete and then move on to the next. Once she has the hang of writing all her letters, we will begin copy work several times a week in lieu of handwriting.
Looking forward to a fun first year of formal studies for my sweet little Teacup next year.
Third Grade
My little Squirrel will be going into 3rd grade in the Fall (2022). We are working hard to get her caught up in her reading and Math to be ready for 3rd grade work. We will continue to work ahead, though slower than what we have done this year, to get her completely caught up with her peer group by 5th grade. I realize not everyone cares about age and grade level and say that there is no "behind" in homeschool or education. Personally, I just don't agree. I would prefer to overshoot and have them "over" ready or, as Mason says, "to set their feet in a large room". Why take away options before they even know who they are or want to be? I regress.
Next years plan for this fun and nature loving gal:
Claritas Memory work – she will also be doing cycle 1 next year. Claritas memory work covers the following subjects: Scripture, hymns, history, Latin, grammar, science, math, geography, Timeline.
Christian Studies
Claritas covers a memory verse per week which she will listen to and repeat several times a day. We are members of the sister site "Cross Seven" which is wonderful for memory. They have a weekly video with all that weeks memory work, put to song, in one convenient location. There are also review games, quizzes, and hand motions to go along with the timeline portion of memory work.
Hymns are studied and learned weekly throughout the year. Typically, one verse per week until the entire song has been learned. The kids all practice this together on community day.
We will be starting year one of Memoria Press's Christian Studies program. She will be studying Genesis through the death of Moses at the end of Deuteronomy this year. This program includes maps, timelines, and discussion questions.
History
Claritas will be studying Ancient History and going through The Story of the World book 1. We will definitely be pulling in a few read aloud and picture books to go along with our studies, especially because all 3 of the kids will be on the same ancient history cycle. For the first time ever. The kids also work on memorizing the entire world's timeline each year. They have missed a few weeks this year but have a decent handle on most of the weeks' timeline memory. I look forward to solidifying their timeline memory as I think this is such a valuable tool for moving into advance geography and history.
Latin
Claritas continues to work and build on what the kids practiced in their Latin last cycle. A mix of nouns, verbs, cases, genitive endings, and declensions.
I was originally planning on starting her in Memoria Press's Latina Christiana but I'm now thinking of holding off until the following year. It may depend on the reading progress she makes between now and September. When I do start the program, I will do a 2-year course of Latina Christiana alongside The Famous Men of Rome. That should set her up nicely to enter their First Form Latin curriculum in 6th grade.
Grammer
Grammar will continue to be Cottage Press Primer 2. I just love the gentle but effective way these primers include grammar, literature, nature drawing, art, narration, dictation and spelling. So Charlotte Mason <3
Reading
https://www.allaboutlearningpress.com/All-About-Reading-Level-3/We will continue with our All About Reading curriculum for Squirrel next year. She has been making very good progress and I'm happy with the program as a whole. We basically skip all of the activities in the workbook and just have her do the reading and flashcards. The activities are not bad but geared more towards a younger audience. I will have Teacup doing them when we start her next Fall. Squirrel will start with level 3 and possibly also do level 4 over the Spring/Summer of 2023.
Science
Next year Claritas will be covering Earth Science (wahooo!) so we will be going more in depth with each week's memory work. We will also continue our nature study and journaling.
Math
Math will continue to be Christian Light Publishing. I love this curriculum and have used it for the last 7 years. It has been the one constant in our homeschool experience and I am very grateful for it. She is working through Math 200's this winter/spring/summer in order to begin math 300's in the Fall. my plan is to continue to work ahead so she will eventually be "caught up" and in the proper program by 5th grade.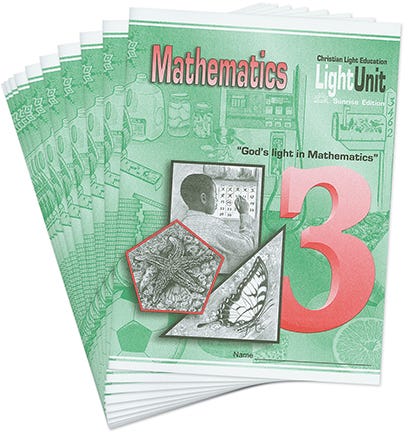 Geography
Claritas reviews geography components each week and I have Squirrel draw maps each day corresponding to whatever geographical location she is studying/memorizing. For instance, this year we are learning about Europe. She draws the Europe every day and labels the appropriate countries, cities, capitals, mountains, rivers, oceans, etc.
That rounds off our third-grade year!
Eighth Grade
Our 8th grader will continue in our local Co-op. Depending on how many families/tutors we end up having, her co-op day may change slightly. However, that would simply mean we do the full course at home and do not share it with the co-op. Either way, her curriculum will remain the same here, regardless of what happens with facilitators at co-op. This curriculum will not be quite as complete or in stone at the previous two, mostly because there are some book lists and such that will need to be decided on collaboratively with the other parents. I will update it once those things have been determined, likely over the summer of 2022.
Christian Studies
This is one of the areas that has yet to be undetermined. We have a fantastic Christian Studies tutor this year who we are discussing different options with how she would like to format the class next year.
Regardless of what we decide to do there, I will likely be having Page do The Story of Christianity as well. The history of Christianity is fascinating and faith building. I look forward to learning alongside her with this one, as my own church history knowledge is lacking.
Latin 2nd form
We have worked through first form over the past year and a half and Page will be going into second form in the Fall. We switched to the Memoria Press Latin series from Visual Latin. Although we loved Dwayne Thomas, she really wasn't learning. We have been much happier with her steady progress and ease of use of the Memoria Press series.
CLE Math
As previously stated, we love CLE Math. Page has been using it since the very beginning and it's been such a blessing. She will be starting the 800 series this Spring and continuing on until she completes it, probably sometime in the Spring of 2023. This will satisfy her pre-algebra so she will be ready to start Algebra 1 immediately thereafter. We do math all year round so this is a hard one to determine year to year. Generally speaking, we finish around January and start our new curriculum around February. Luckily, she will start Algebra 1 in 8th grade but will complete it in 9th, therefore getting the HS credit. Whoop!
Geography
Page started Memoria Press Geography 1 in January 2022. The plan is to do Geography 1 through the Spring and Summer and start Geography 2 in the Fall with her co-op. I will have her complete the cycle with Geography 3, which is an overall summary of geo 1 and 2 as well as a cartography course, either the Summer before her 9th grade year, or the Fall semester of her 9th grade year. Unfortunately, I did not start her in 6th grade with geo 1, which would have set her up nicely do geo 2 in 7th and geo 3 in 8th. I think having a solid grasp of the world's geography genuinely helps as kids move into higher level histories. I will be looking through the course and choosing biographies of people and places to go along with the areas she will be studying, Africa, Asia, Oceana, Australia, Antarctica, North America, Central America, Caribbean, and South America.
ELA and Grammar
Page is slowly working through Bards and Poets 1. I am hoping that she will be ready to start Bards and Poets 2 in August, but this is another subject that we just work through until it's complete and then move on to the next. I like this program quite a lot. It covers so much and teaches a broad and liberal LA and grammar program. Again, staying true to a Charlotte Mason model, it encompasses a writer's journal, common placing, poetry, living literature, and gentle grammar, including diagramming. I am so grateful for Cottage Press and the thoughtfulness and thoroughness they have put into making such a wonderful, living, comprehensive Language Arts Program.
Comp and Lit (poetry)
Composition and Literature are primarily a co-op class. We use Lost Tools of Writing, and she will be starting level 2 in the Fall. This year she went quickly through level 1 and the Comparison Essay in the Winter/Spring. She enjoys writing and reading (hence her code name "Page") so this is always a favorite class for her. The parents will work on a literature list later this Spring/Summer and I will update when I have it. We base the essays from her writing program off of the book list, so these two classes work nicely together.
History
I am so excited about history next year! We are going to be doing The World's Story series from Master's Books. From what I can tell, it's everything I have been looking for in a history curriculum. Yes, it would be best to piece everything together myself, but some people just don't have time for such things (ahem) and an out of box curriculum works SO. MUCH. BETTER. It is very difficult to find a solid History curriculum that also incorporates Charlotte Mason principles and techniques throughout. This one seems to fit the bill and I can't wait to see how it unfolds. It moves through a 3-year cycle; year 1 is Ancient, year 2 is Middle Ages, year 3 is Modern.
Band
This is an additional class Page takes through our co-op. We have different options for "clubs", and this is one of them. The kids get together on the stage in the church sanctuary to work on playing Christian hymns and songs. Page is on the piano and it's fun to watch her learn to play some of my favorite Sunday morning songs.
Well, next year is shaping up to be a pretty great year! I am excited to see what the Lord has in store for these awesome kids of mine 🙂